This Vegan Chocolate Chili recipe is rich and filling with layers of complex flavor from savory spices and cocoa powder. It's protein-rich, oil-free, and tastes nothing short of decadent.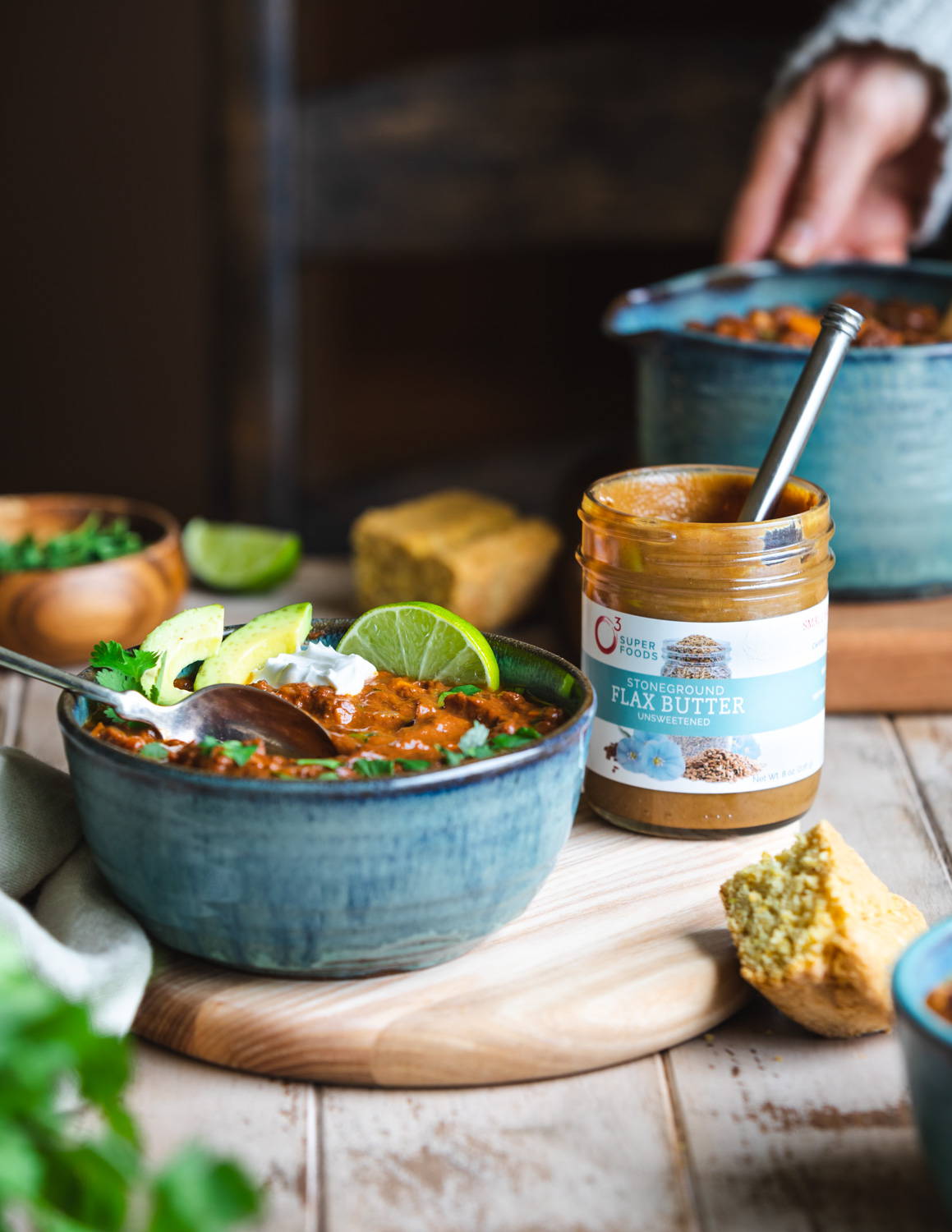 HOW TO MAKE VEGAN CHOCOLATE CHILI


Heat a 6-quart Dutch oven (or heavy bottom pot) over medium-high heat. Add 3 tablespoons of water, your diced onions, and 1 teaspoon of salt. Sauté until soft, translucent, and slightly brown, 7-10 minutes. Add water, 1 tablespoon at a time, if the onions begin to dry out.

Add the garlic and sauté until fragrant, 1 minute more.

Add the carrots, other 1 teaspoon of salt, a few twists of freshly ground black pepper, and sauté until tender, about 5 minutes. Add water, 1 tablespoon at a time, if the veggies begin to dry out.

Sprinkle the cocoa and all the spices over the veggies, stirring vigorously for 30 seconds until well blended. The mixture will look dry and that's totally normal. We are toasting the spices to enhance their flavor and temper any bitterness.

Deglaze the pan with vegetable broth, scraping up any dried bits from the bottom of the pan.

Pour in tomatoes and their juices, breaking up the whole tomatoes with your stirring spoon (or hand). Then add the beans, diced yam, bay leaves, flax butter, and maple syrup. Stir until all the ingredients are nicely mixed together.

Bring to a boil and then turn the heat down enough so that the chili is at a gentle simmer and happily bubbling away. Simmer, uncovered, for 30 minutes, dragging a wooden spoon across the bottom now and then to prevent any sticking or burning. When the yams are nice and tender, it's done.

Remove the bay leaves and scoop 1½ cups of chili into a blender. Blend until smooth and add the blended chili back to the pot. Stir until well incorporated. You can also use an immersion blender to blend the chili in a separate bowl.

Sprinkle cilantro and lime juice over the chili and stir. Test to see if you need to add more lime juice for tanginess. Test for sweetness as well, adding up to 2 more tablespoons of maple syrup to balance any bitterness. Season with salt and pepper to taste.

Scoop into bowls and top with dairy-free sour cream and avocado slices. Garnish with a lime wedge and chopped cilantro, if you like, for a pop of color.
 


Storage:
Keeps well refrigerated for up to a week or frozen for 3 months. Gently re-heat on the stovetop or in the microwave. Vegan Chocolate Chili tastes even better the next day after all the spices have gotten to know each other!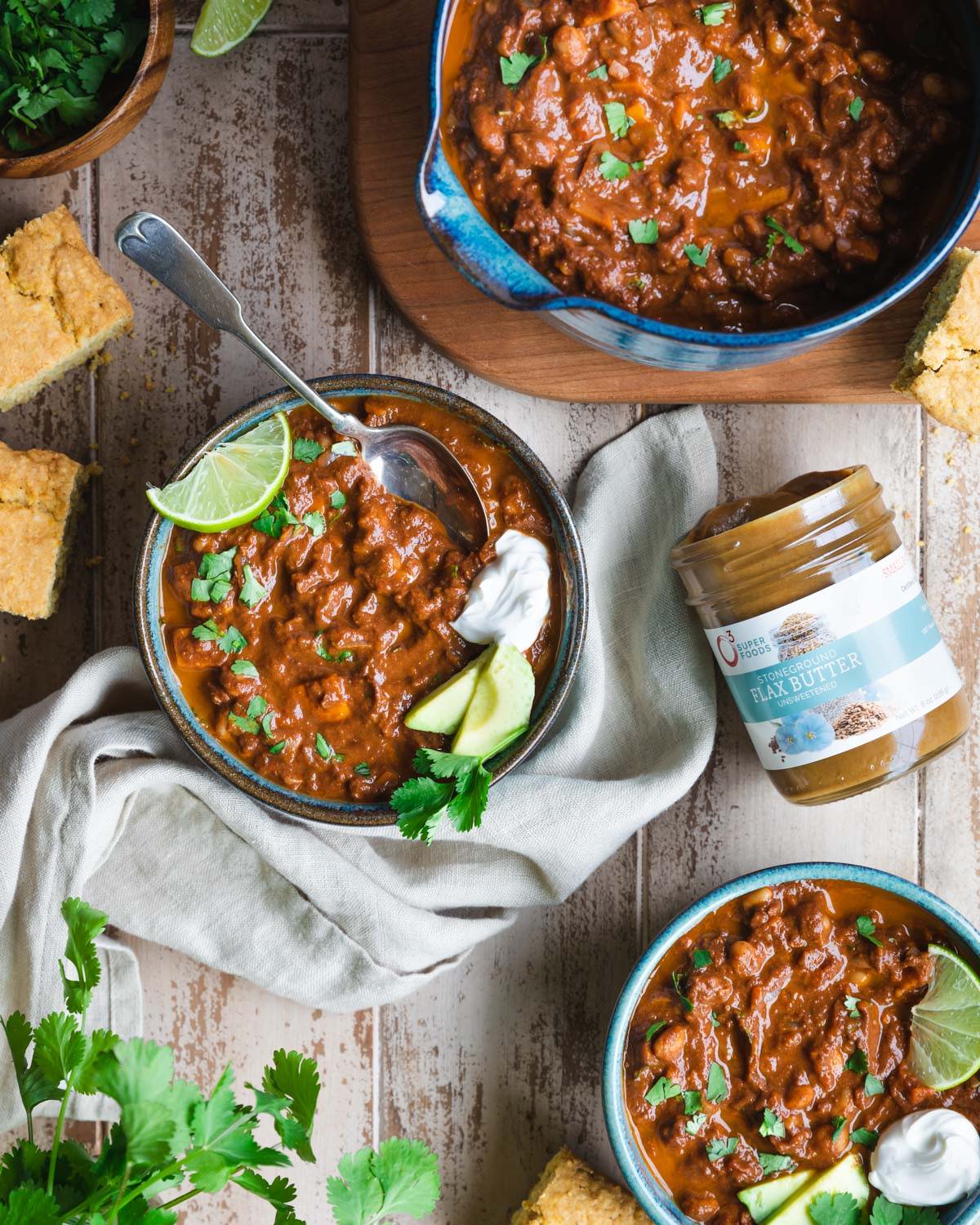 (Check back in here regularly for new Flax Butter recipes and ideas!)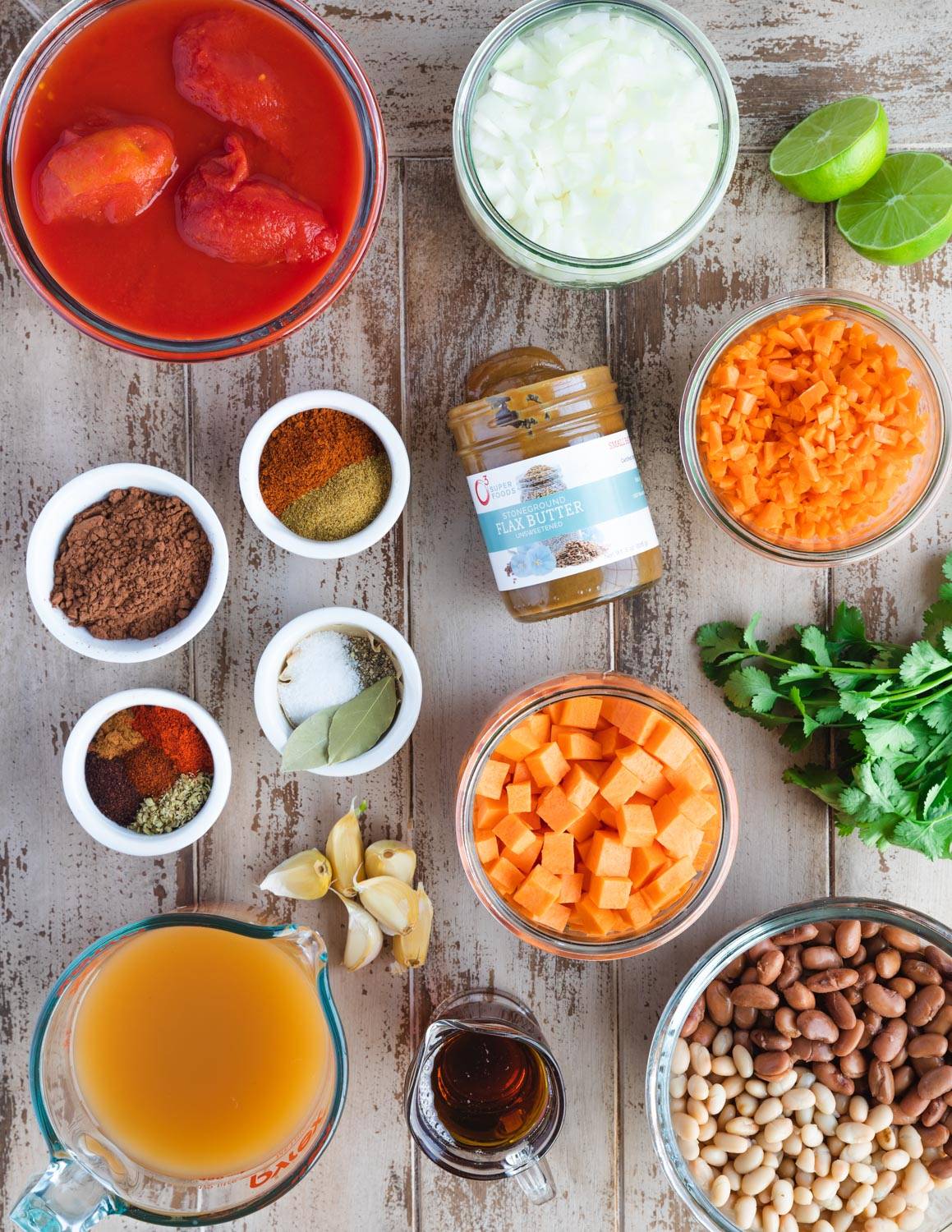 INGREDIENTS
Sauteed Veggies:
1 medium yellow onion, diced (about 2 cups)
2 teaspoons of kosher salt, divided
Water for sautéing
6 cloves of garlic, minced or pressed
2 medium carrots, finely chopped (about 1 cup)
Freshly ground black pepper
Spice Mix:
¼ cup (25g) of cocoa powder, unsweetened (Dutch Process)
2 tablespoons of chili powder, mild
1 tablespoon of cumin powder
1 tablespoon of oregano
2 teaspoons of ground ancho chili
1 teaspoon of cinnamon
1 teaspoon of smoked paprika
½ teaspoon of ground chipotle chile (use 1 teaspoon for spicy or omit for a "no heat" version)
The Chili Base:
2 cups (480 mL) of vegetable broth    
1 (28 oz./800g) can of whole peeled tomatoes with juices
1 medium yam, peeled and diced (about 2 cups)
1 (15 oz./425g) can of navy beans, drained and rinsed
1 (15 oz./ 425g) can of pinto beans, drained and rinsed
2 bay leaves
2 tablespoons of O3 Superfoods Flax Butter
3 tablespoons of maple syrup
Finishing Touches:
½ cup of chopped fresh cilantro
1½ tablespoon of freshly squeezed lime juice
Salt and pepper to taste
 Toppings:
*Optional but highly recommended 
Vegan sour cream
Sliced avocado
Lime wedge
Chopped cilantro