Sweet Potato and Broccoli Tray Bake with Sesame Ginger Sauce
This sweet potato tray bake is simple and wholesome with vibrant vegetables and a boldly flavorful sesame ginger sauce. It's a tasty back to school dinner that's easy to prepare and quick to clean up. Naturally vegan and gluten free!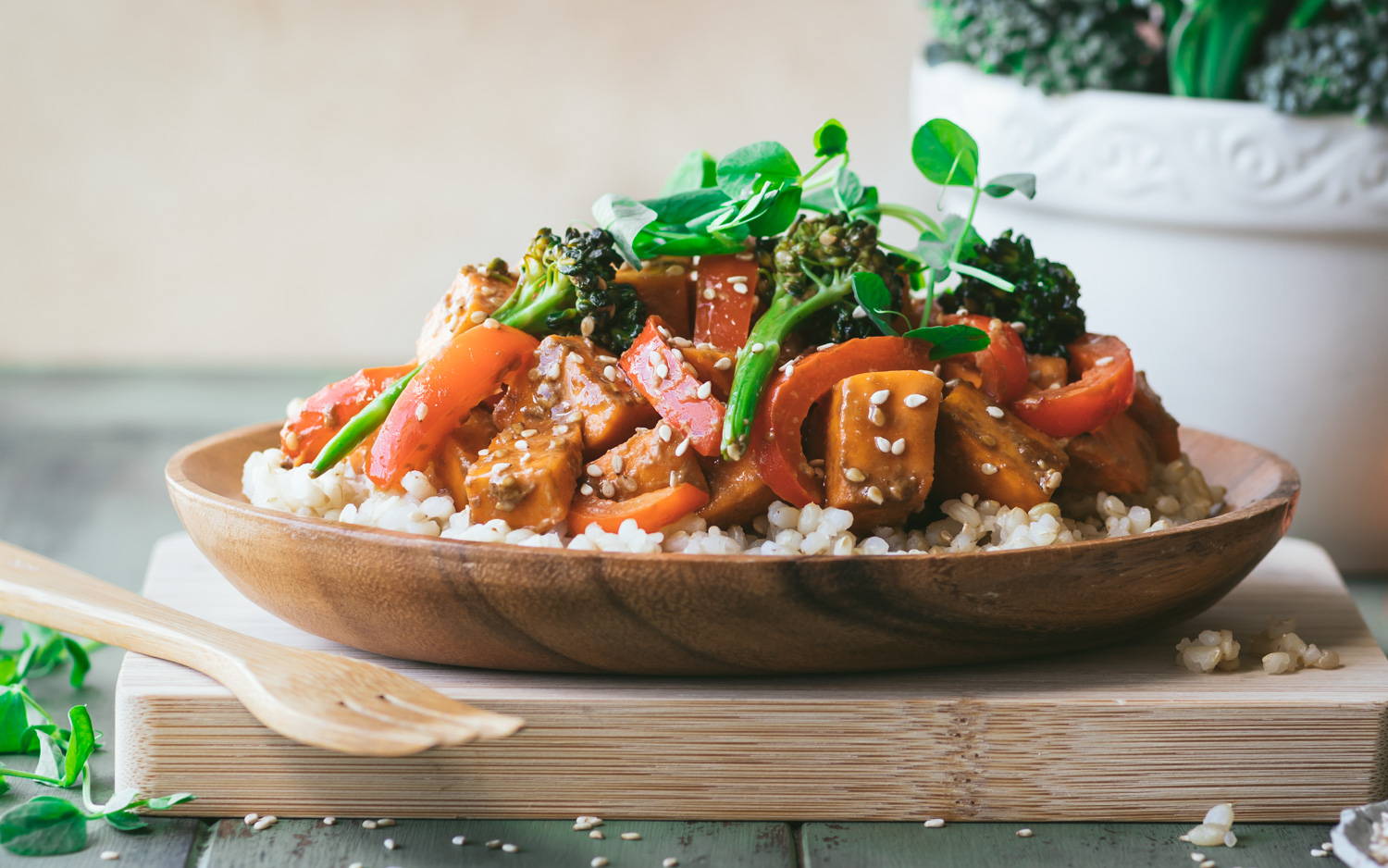 HOW TO MAKE SWEET POTATO AND BROCCOLI TRAY BAKE
Preheat oven

to 425 F (220 C / gas mark 7). Line a rimmed baking tray with parchment paper.

Make the sauce-

Whisk, in a small mixing bowl, all the ingredients for the Sesame Ginger Sauce. The tahini will look separated and curdled to start with but will blend into a smooth sauce as you mix.

Prepare the vegetables-

Peel and dice the sweet potatoes into ½" cubes. (so they cook at the same rate as the broccoli and peppers) Thinly slice your pepper and cut the broccoli into manageable bite size pieces.

Toss the vegetables-

in a large mixing bowl with the sesame ginger sauce. See that all the veggies are well coated.

Spread the vegetables-

on your baking tray with the yams settled at the bottom.

Bake-

for 30 minutes. Check to see if the sweet potatoes are fork tender. Slide the tray back into the oven for 5 more minutes if needed.

Serve-

Sprinkle sesame seeds over the top and serve with your favorite rice.
Note: The Sesame Ginger Sauce makes a quick and flavorful marinade for tofu or tempeh.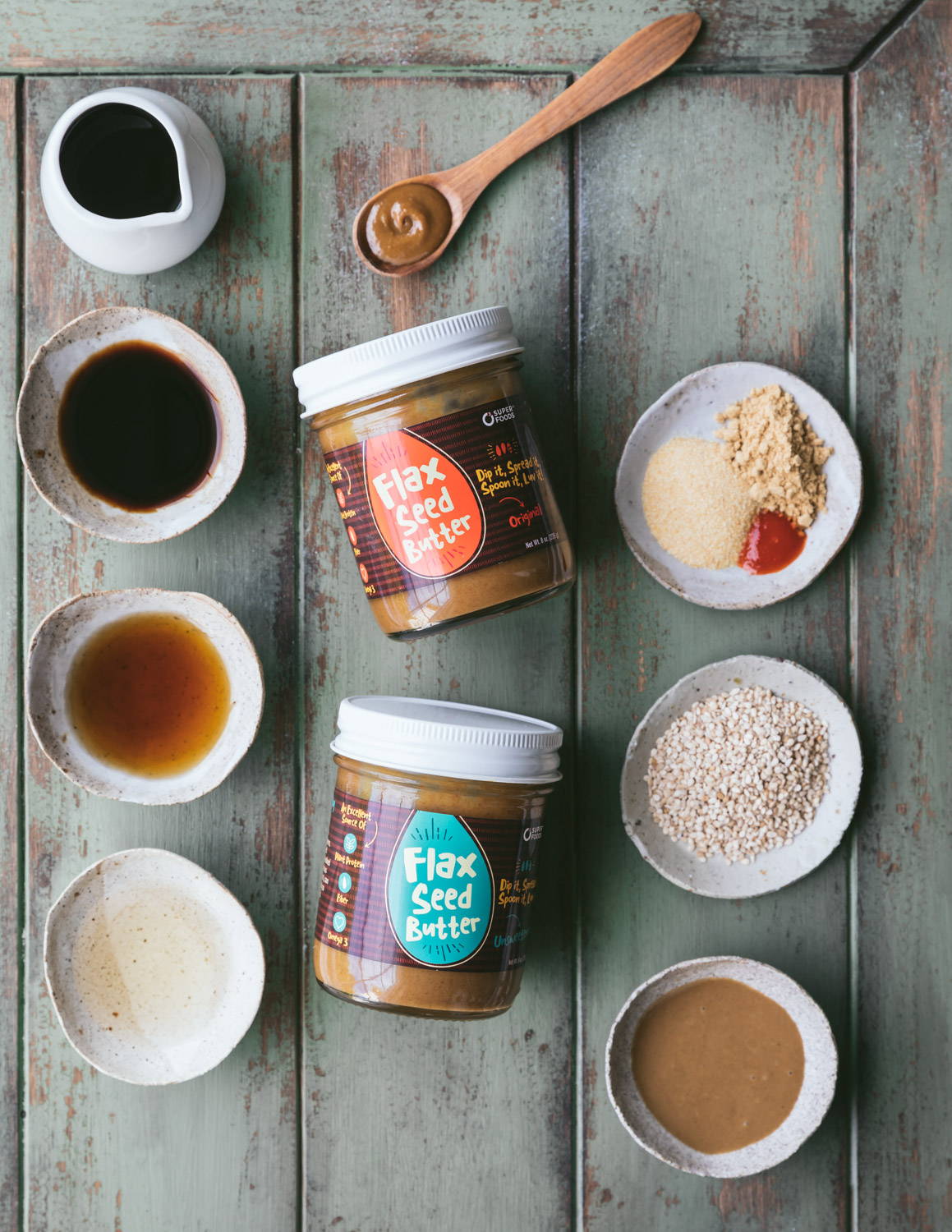 (Check back in here regularly for new Flax Butter recipes and ideas!)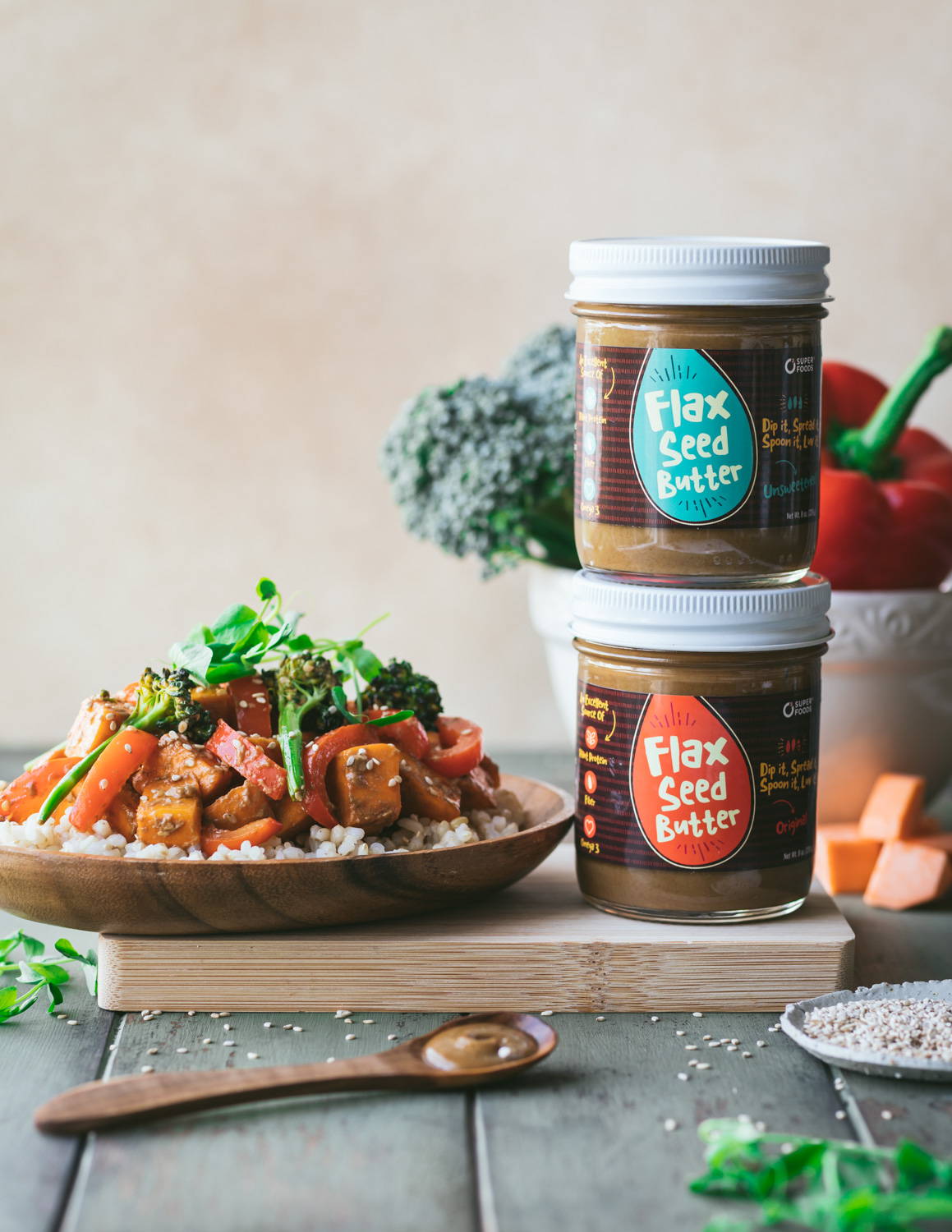 INGREDIENTS FOR THE SESAME GINGER SAUCE
Makes 4 servings
¼ cup (2 oz.) of coconut aminos

1 tablespoon of tamari

1 tablespoon of pure sesame paste

1 tablespoon of O3 Superfoods flax seed butter

1 tablespoon of rice vinegar

1 tablespoon of maple syrup

1 tablespoon of sesame seeds (plus more for sprinkling)

1 teaspoon of ground ginger

1 teaspoon of garlic powder (or granules)

¼ teaspoon of sriracha (more for spicy)
INGREDIENTS FOR VEGETABLES
4 cups (600 g) orange-fleshed sweet potatoes (about 2 medium) peeled and diced into ½" cubes

1 small red bell pepper, thinly sliced

1 bunch of broccoli or broccolini, sliced