Strawberry Spinach Salad with Maple Balsamic Dressing
A guaranteed crowd pleaser, this Strawberry Spinach Salad with Maple Balsamic Dressing, is everything you want in a salad. It's made with buttery toasted almonds, spicy onion, sweet strawberries, and an exceptionally flavorful dressing. Best of all, it comes together in less than 30 minutes!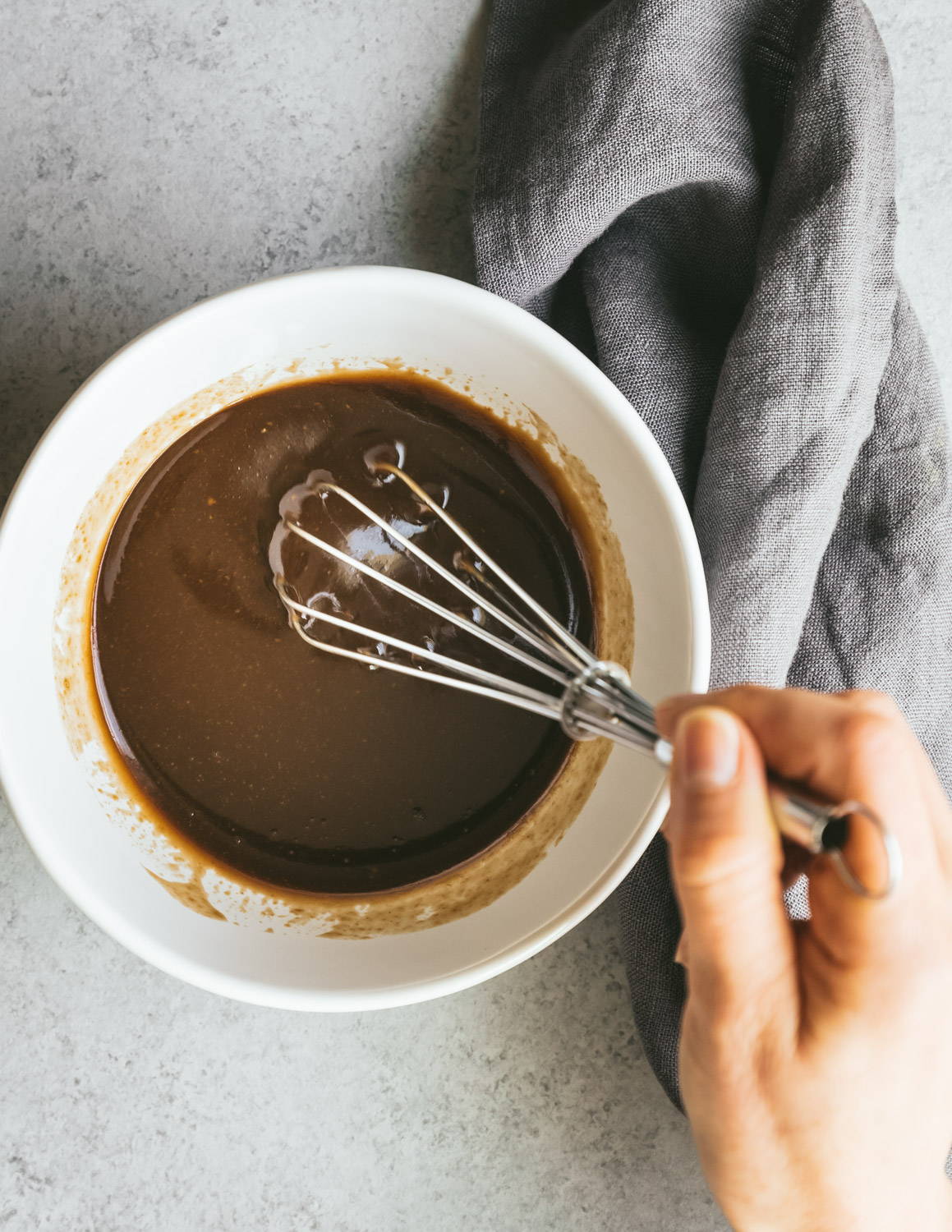 HOW TO MAKE STRAWBERRY SPINACH SALAD WITH MAPLE BALSAMIC VINAIGRETTE
Toast the almonds:

Melt the butter in a small saucepan over medium-high heat and sprinkle in the almonds. Toast until they are golden brown and smell warm and nutty, about 5-7 minutes. Once golden, they burn quickly, so keep an eye on them to avoid this tragedy. Let cool while you make the dressing.

Make the dressing:

Pile all your ingredients into a small jar, tightly secure the lid, and shake with the energy of outrunning a rabid dog. Or, vigorously whisk the ingredients together in a small dish. You'll see it emulsify, thicken, and become smooth.

Make the salad:

Grab a large salad bowl and fluff in your spinach.

Plop the strawberries and onions on top.

Pour the dressing evenly over the spinach and toss it all together so every piece of spinach is well coated.

Sprinkle on the toasted almonds and sesame seeds and toss again. The nuts and seeds will stick to the dressing coated spinach so do this step last, so they don't all end up at the bottom of the bowl.

Taste a leaf and add a sprinkling of salt and a few twists of black pepper to make the flavors pop.

Serve straight away as a refreshing main or colorful side dish.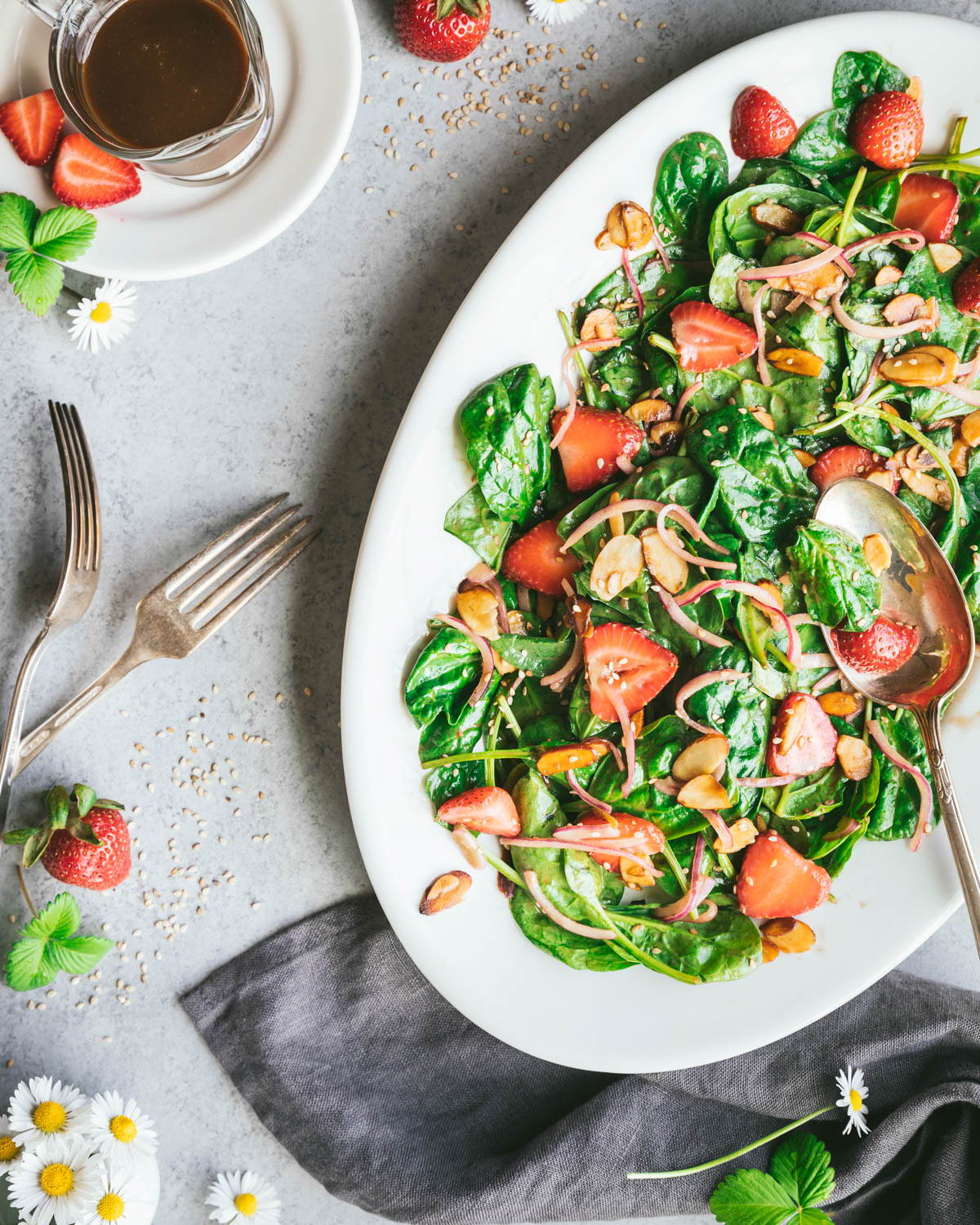 (Check back in here regularly for new Flax Butter recipes and ideas!)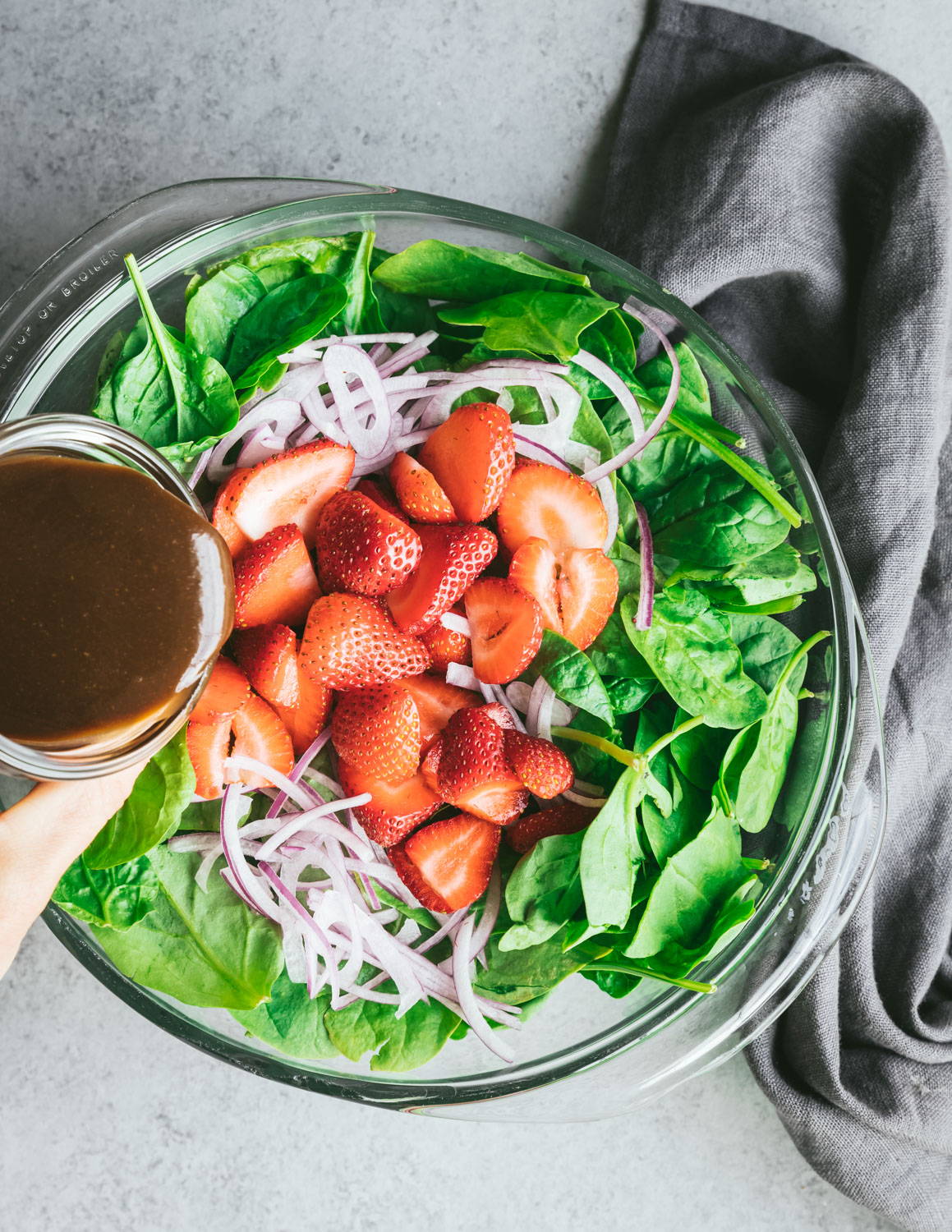 INGREDIENTS
Makes 4 entrees or 6 sides
Maple Balsamic Dressing
2 tablespoons of extra virgin olive oil (evoo)  

2 tablespoons of aged balsamic vinegar

2 tablespoons of maple syrup

1 tablespoon of red wine vinegar

1 tablespoon of Dijon mustard

½ tablespoon of O3 Superfoods flax butter
Strawberry Spinach Salad
½ pound (227 g / 8 packed cups) fresh spinach

2 cups (250g) of fresh strawberries, sliced

½ cup (53 g) sliced almonds, sauteed in

2 teaspoons of vegan butter

¼ of a red onion (about 1 cup), sliced very thinly by hand or using a mandolin at the 1mm setting

1 tablespoon toasted sesame seeds

Kosher salt and freshly ground black pepper to taste