Brussel Sprouts with Flax Butter & Vegan Bacon
(Check back in here regularly for new Flax Butter recipes and ideas!)
Impress your friends and family this year with this incredibly delicious and healthy dish. There's no shortage of culinary ingenuity here. From our friends at Vegetafull, this recipe will take Brussel Sprouts out of the sidelines and make them the star of the show. To start you'll need to make the vegan coconut bacon.
Ingredients for Coconut Bacon

 

2 cups of unsweetened large coconut flakes, aka coconut chips (not regular shredded coconut!)

2 tablespoons of tamari (gluten-free soy sauce)

1 tablespoon of maple syrup

1 tablespoon of O3 Flax Butter

1 teaspoon of concentrated liquid smoke

½ teaspoon of smoked paprika

Kosher salt and freshly ground black pepper for sprinkling

 

Makes 2 cups of coconut bacon
How to make Coconut Bacon.
Preheat your oven to 350 F / 180 C / gas mark 4. Line a rimmed baking sheet with parchment paper.

In a medium mixing bowl whisk together the tamari, maple syrup, flax butter, liquid smoke, and smoked paprika.

Scoop the coconut flakes into the bowl and mix until all the flakes are evenly coated with the bacon sauce.

Spread the coated flakes in a single layer on the prepared baking sheet, scootching the pieces around with a fork so that they don't clump up too much. Scrape any flakes that stuck to the bowl on the baking sheet. Sprinkle with salt and pepper to taste.

Place on the middle rack in the oven and bake for 15 minutes total, stirring the flakes at 5 minutes, 10 minutes, and 13 minutes. At this point they should be golden brown and fairly crispy. If you need to bake them a minute more, keep a close eye on them as they can go from golden to burnt very quickly at this point.

Remove from the oven and let cool completely. They will crisp up as they cool. Store in the freezer or in an airtight container in the pantry. (see tips on storage)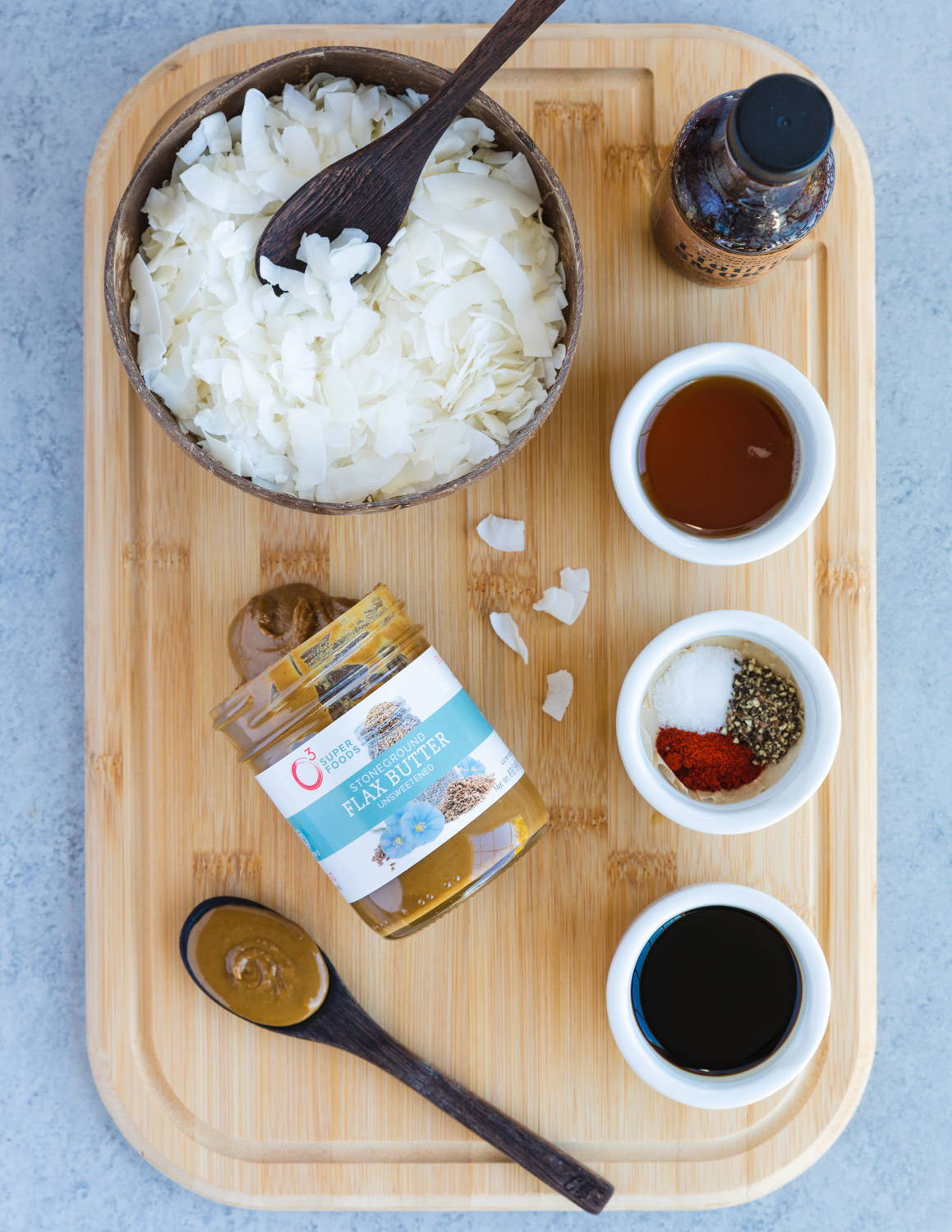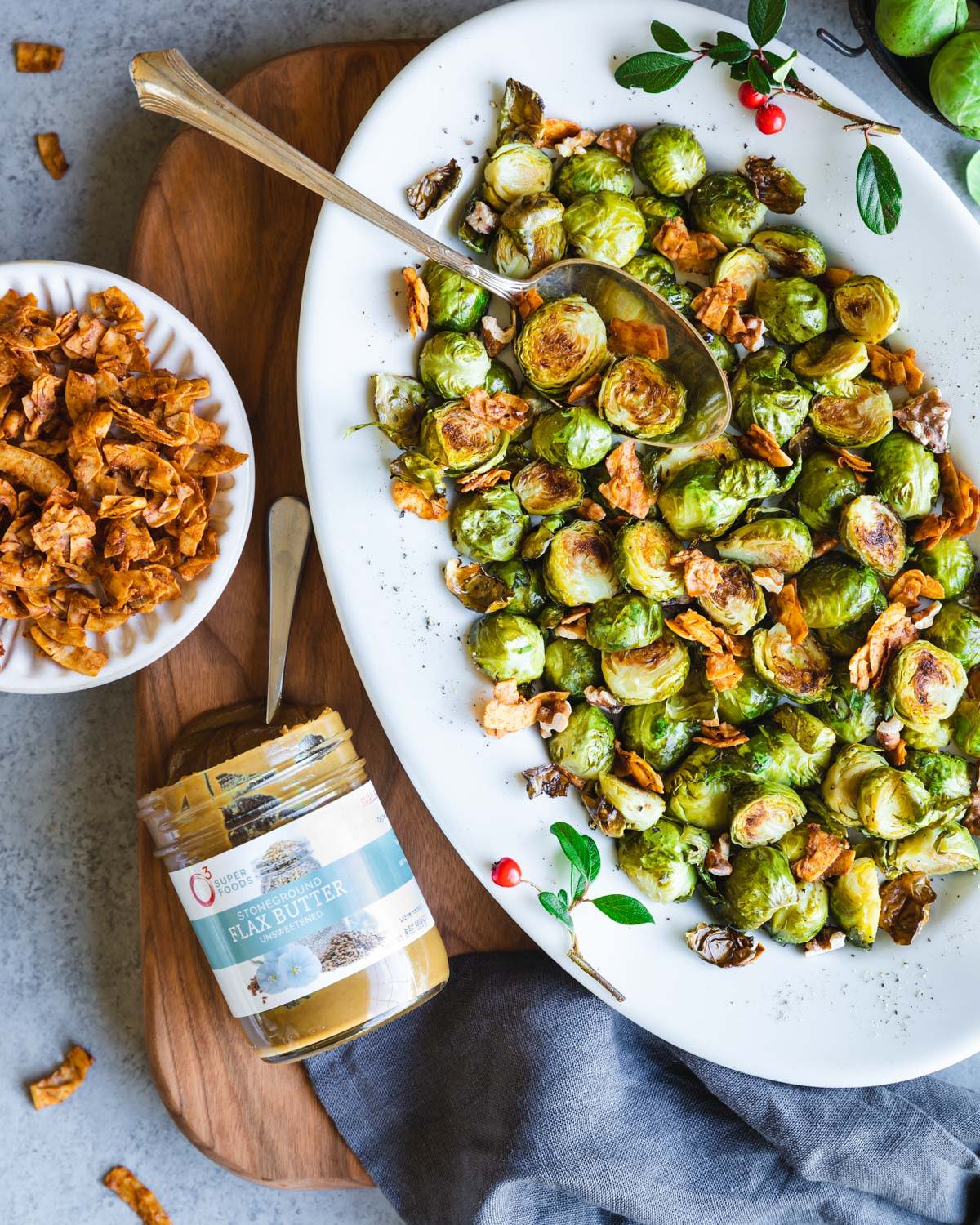 Ingredients for Roasted Brussels Sprouts with Coconut Bacon
2 pounds (907 grams) of brussels sprouts, bottom trimmed, outer leaves removed, and sliced in half.
3 tablespoons of melted cacao butter (if using oil, use olive oil)
Kosher salt and freshly ground black pepper to taste
1 cup of coconut bacon (see recipe above)
½ cup of toasted walnuts, roughly chopped
How to make Roasted Brussels Sprouts with Coconut Bacon
Preheat your oven to 425 F / 218 C / gas mark 7. Place a rimmed baking sheet in the oven while it preheats. There is no need to grease the sheet or line it with parchment paper.
Prepare your brussels sprouts by giving them a rinse, dry them, and then trim off the very bottom. Slice them in half, discarding the old outer leaves that fall away easily, and pile them into a mixing bowl. If some of the good green leaves fall off when you are slicing, add them to the bowl as well.
Melt the cacao butter, in a small dish, in the microwave for 30-60 seconds at a time until it turns into a golden liquid that smells like white chocolate. You can also melt cacao butter on the stovetop in a small saucepan over medium heat.
Drizzle the melted cacao butter over the brussels sprouts and toss until all the sprouts are evenly coated. The cacao butter will turn milky in color as it coats the sprouts and begins too cool off. If you're cooking with oil, use olive oil instead. Sprinkle with salt and pepper to taste and toss again.
Remove the hot baking sheet from the oven and scoop the brussels sprouts onto it so they are nice and spread out. Carefully flip each sprout, cut side down, so it sears on the hot pan.
Bake for approx. 25 minutes, checking their progress after 15 and 20 minutes, adjusting the cooking time as needed. You are looking for sprouts that are deeply golden on the flat side, slightly crispy on the outside, and tender on the inside. The stray leaves will turn slightly charred and deliciously crisp.
Scoop into a serving bowl and toss with the coconut bacon and toasted walnuts. This dish is best served hot from the oven.